Tim, Dustin, and Wade's Debt Counter
(JavaScript Error)
---

Flight Home - Final Post

(Wade) Most of us are on our way home with a couple already there. Before I recap the last couple of days I'd like to thank Dustin and his mother and step-father for their hospitality and the use of their home for the last week, it is very much appreciated.

I'd also like to thank all of those who have contacted us with their thoughts and wishes for all of us, it feels great to have so many friends and family behind us and we all are appreciative.

The night before Tim and I played in our tournament the group attended the dinner show at Excalibur. We at chicken with our hands (sorry Jaime we'll plan better next time) and watch a tale of good versus evil set in medieval times.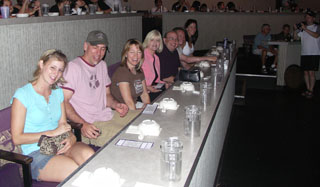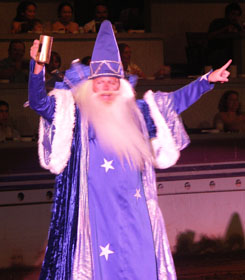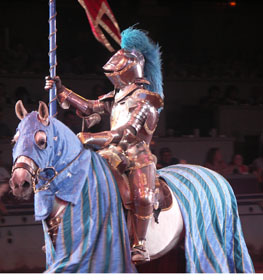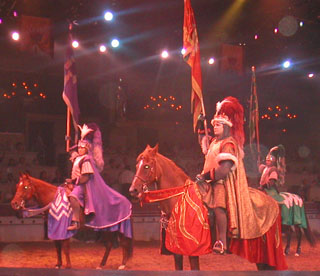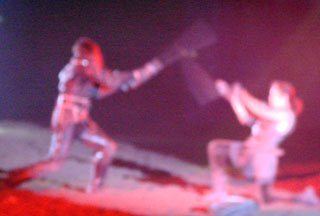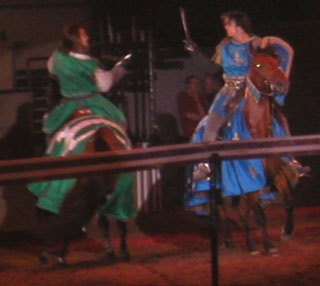 We also spent a little time at the Mirage and while we were not able to see the new show, Love, the entrace to the theatre is so impressive that Shannon and Dustin felt compelled to take part in the scene. Who knows, John, Ringo, Shannon, and Dustin...It could happen.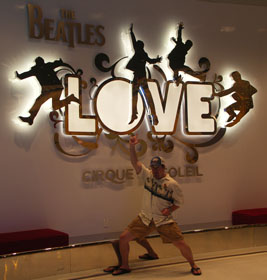 During the tournament on Friday Tim played with John Phan and I played with Paul Wolfe, both of whom played with Dustin on Tuesday.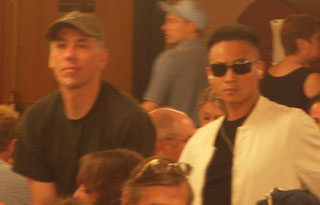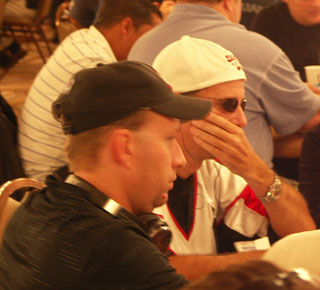 While we all played with other pros as well, considering the number of players in both of the tournaments it is pretty amazing that we all played with some of the same people. We all learned a tremendous amount from playing with them, more on this in a bit. (Click here for more pictures of me from the official World Series of Poker website, photoes MM8G3041 and MM8G3043)

The rest of the gang continued to hang with other players including...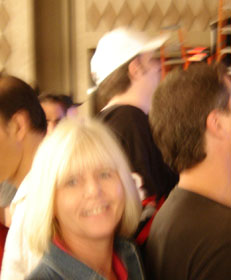 Cheryl hanging with Howard Lederer...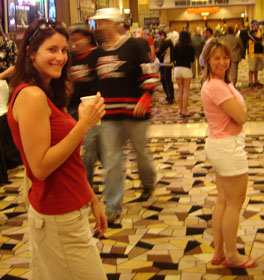 Jaime and Lori with Howard...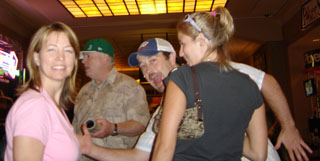 Lori, Dustin, and Shannon with Dan Harrington...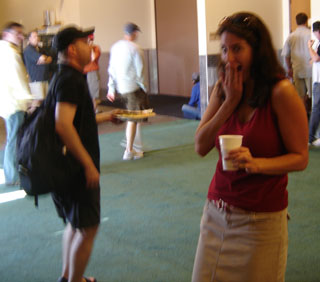 and Jaime shocked to have tracked down a mystery poker pro.


After the main tournaments we spent the rest of the week...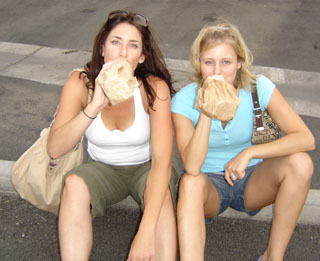 drinking...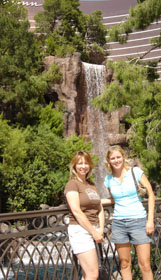 site seeing...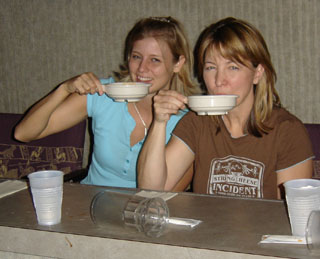 eating...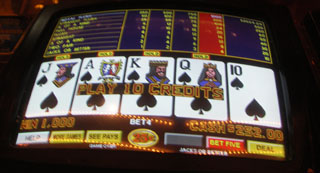 gambling (Dustin's royal flush at video poker was the best hand of the trip)...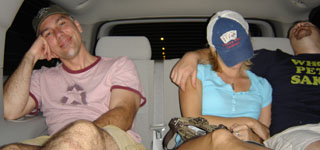 and resting


Thanks again to everyone for their support and we all plan on being back next year and hopefully I can find the time to make this site easier to update to we can keep it even more up to date.

---

Afternoon #7

(Wade) Well, it's over. Pretty decent run but not enough to carry me through. I went out after playing for just under 6 hours and went out with between 450 and 475 players left out of the 2,050 that started. Not too bad considering I didn't play a hand for the first 2.5 hours because the cards were so bad. Finally caught some, made some other good plays to hang for as long as I can. Pictures and possibly more later.

Tim doesn't want to write anything at this point, look for something tomorrow.

---

Day #7

(Wade) In a couple of hours Tim and I will be playing. Tim "Went for a run and am feeling good." We will post as we can but it will only be between breaks and we may not have the time during each break. Dinner break is around 6:00 tonight and we will post then.

---

Day #6

(Wade) Mostly just hanging out today. We all went to the dinner show at Excaliber. Tomorrow's the big day for Tim and I.

---

Day #5

(Wade) Not much to report on today, some resting from the previous days/nights events. Dustin and Shannon napped while Tim and I did a little driving and hiking through Red Rocks National Preserve west of Las Vegas. It is a beautiful area and while these pictures are nice, they don't do it justice.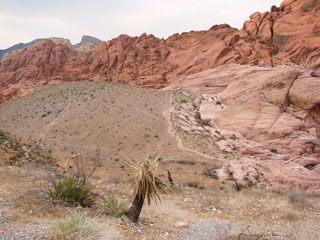 Tim's hiking and climbing led him to an area where he could get in touch with the area.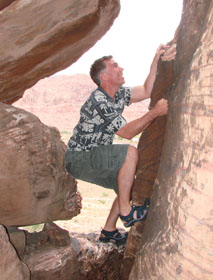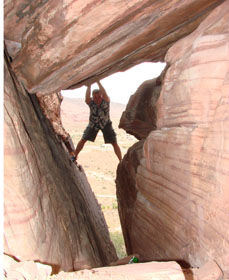 Lori, Jaime, and Cheryl made it into town in the evening and we went out watching Jaime gamble and WIN. She is up $32.59 for the night.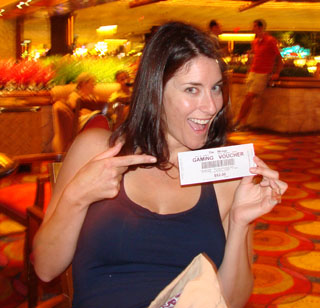 ---

Morning #5

(Tim) OK I guess its up to me to chronicle yesterday's events. It was officially "All About Dustin Day" - as oppossed to the last 3 days which were all "All About Shannon Days" but I digress... So Dustin started the day full of hope...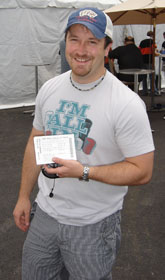 BEFORE - And as you already know he did very well, finishing just out of the money in the top 20%. (Setting the bar very high for Wade and I by the way) so we went out to celebrate and, after a number of Manhattens and tall Bud Lights...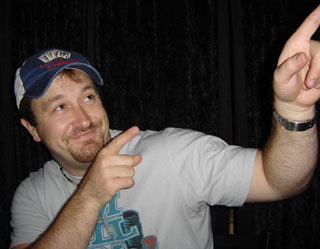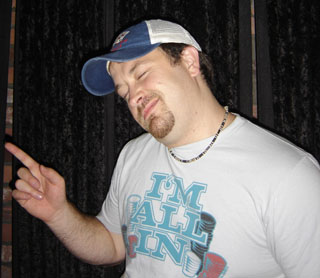 AFTER - We ended up playing some blackjack, craps and finally at a piano bar which Dustin obviously enjoyed.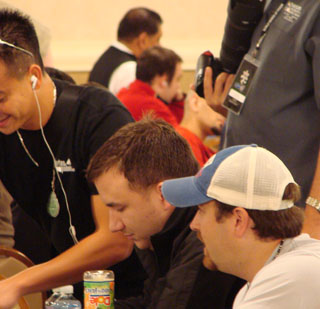 But back to poker for a second... Dustin played most of the day with position on John Phan - a top pro who was the chip leader in the entire tournament for most of the day. He even managed to double up off Phan at one point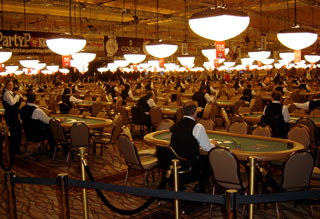 Just to give you an idea of how big these tournaments are - they seat 2,200 or so people at any one time

One thing about these tournaments though, is that you are playing with the top pros, sitting at the same tables with them all day and just generally hanging out with them. After a while you really can't help but to get to know them. We had the opportunity to meet and become friends with several of the top pros... talking poker, having drinks and just generally hanging out with them away from the tables...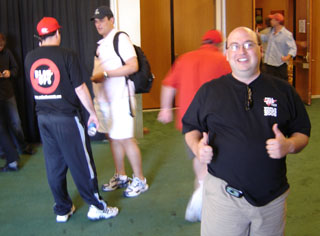 Here's Brian chilling out with his good buddy Mike "The Mouth" Matasow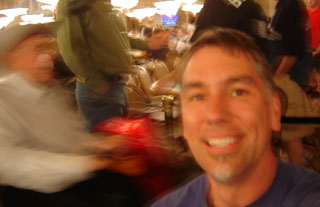 And me and the legendary Doyle Brunson got to spend some really quality time together. Its an experience I will never forget and will treasure always.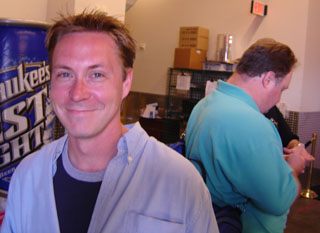 Troy and 2004 Main Event winner Greg Rahmer were like brothers by the end of the trip and...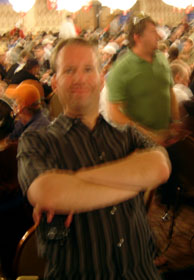 Wade and Chris Moneymaker have sworn to stay in touch and not let their friendship fall apart like so many others do.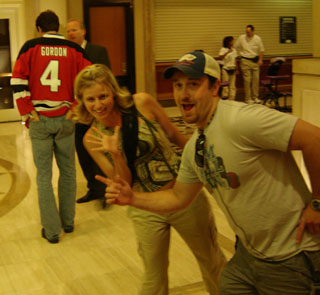 And finally, Dustin and Shannon hooked up with pros Phil Gordon and Marcel Luske but, unfortunately Phil kept hitting on Shannon and they were forced to break the friendship off. Ever the gentleman though, Marcel apologized for Phil and invited them to his place in France after next years event.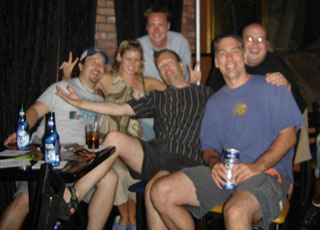 Soh as you can see, despite the pressures of world class poker, we are having a good time.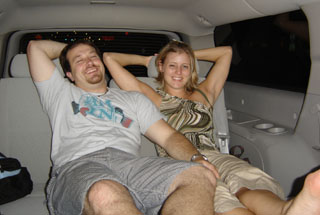 Dustin and Shannon on the way home afer dumping Phil and a long night of drinking.



---

Day #4 - Update #4
(Wade)The bar has been set. Dustin didn't quite make it to the dinner break but had a great day. They were not keeping track of individual places at that point but with what they did have recorded, the time, and the others we watched drop out we believe Dustin went out between 350 and 375. That's in the top 16%-18% which is just great. We are all very impressed with his play, especially considering the way John Phan was running over the table and took everyone else out along the way. Dustin is feeling good about his play and is ready to party tonight.

We have some great pictures with some of us an celebs today, we will post them by tomorrow morning.
Thanks to everyone with their support for Dustin he appreciates the thoughts.

Tim and I are very excited for our tournament on Friday. We probably won't be posting quite as much, unless of course I implode early, but we will try to keep everyone up to date as much as possible.

---

Day #4 - Update #3
(Wade)Second break and Dustin's hanging strong. He doubled up off of John Phan with Kings versus Nines. About 2/3rds of the players are gone. 720 left out of 2,126 starting which is great. They are paying the top 198 but that won't be until tomorrow. Dustin has outlasted many pros including Phil Hellmuth, Amir Vaheedi, Chris Moneymaker, Jennifer Tilly, James Woods, and Humberto Brenes.

---

Day #4 - Update #2
Right after the first break Dustin has doubled up! YEAH!!!

---

Day #4 - Update #1
First break after 2 hours of play and Dustin is sitting about where he started. John Phan (pro) is running the table over with good and bad cards. Fortunately Dustin is to his left. You can check out Card Player's blog by clicking here.

---

Day #4 (Let's get it on)
(Wade) And they are under way. Dustin has been playing for 30 minutes, we can't see his chip stack but will try and get a count shortly. No big names at his table but some are close, such as Greg Reymer in the aqua shirt in the second picture below.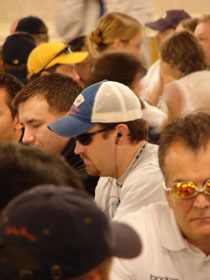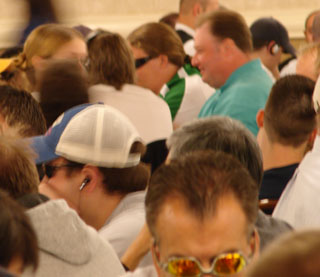 ---

Day #3
(Wade) Not much to say about today, we'll let the pictures do most of the talking. Lots of walking, hat and shoe shopping, and drinking. We won't talk about the gambling.

Dustin's tournament starts at 12:00 Noon on Tuesday, we will try to post with updates as he plays.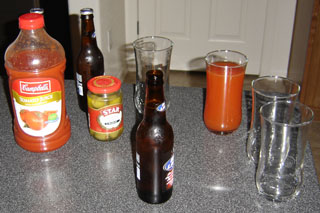 Breakfast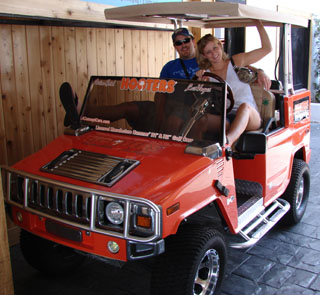 Lunch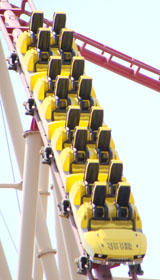 Dustin said they were on the next coaster, can you find them?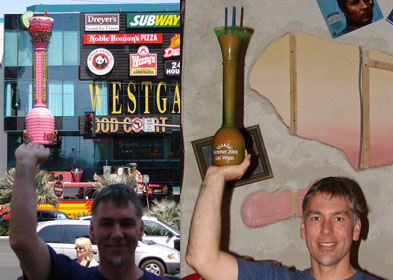 It's so hot out, we need a big frozen drink...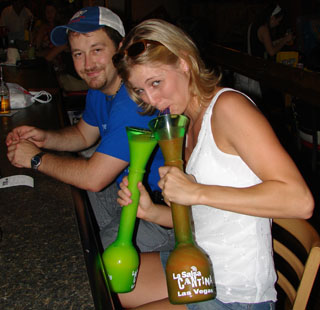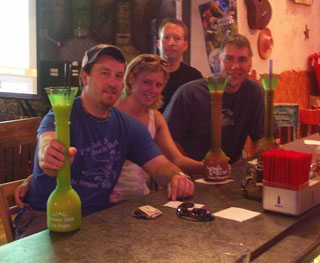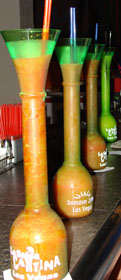 or two, or three, or four.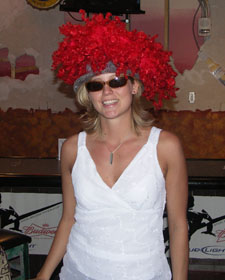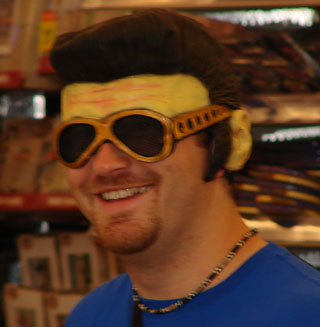 Next, it was time for hat shopping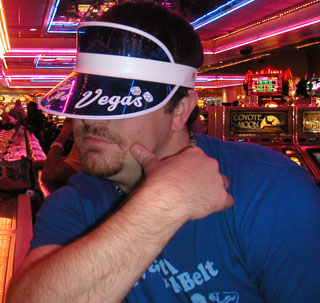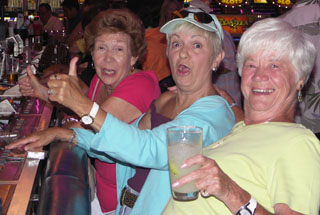 Dustin striking a pose to pick up the ladies...and it worked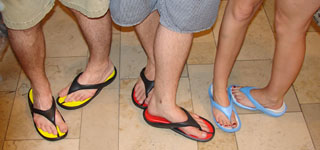 And finally, after walking the strip it was time for some new Crocs to sooth the feet, at least for those who know how to walk in them.

---

Day #2
(Wade) Pretty much just hung out today. We started by picking up all the free stuff we could get at the WSOP, guess what everyone is getting for Christmas this year. We watched some of the live games and again many of the top pros were right in front of us, like Doyle, Jesus, and Mike "The Mouth" below.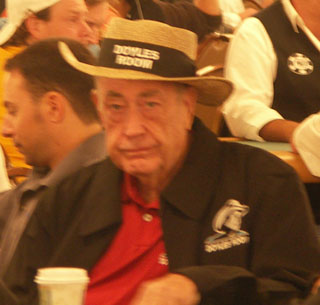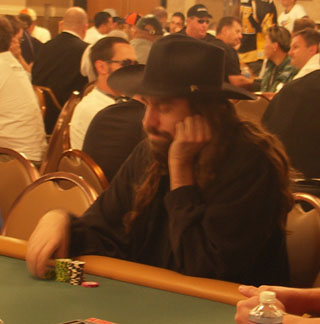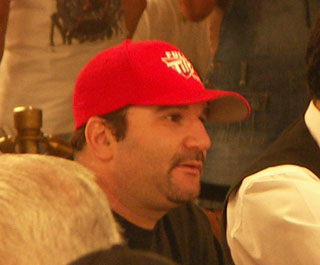 We also spent some time in the Beer Garage behind the tourney and played a bowling game and darts.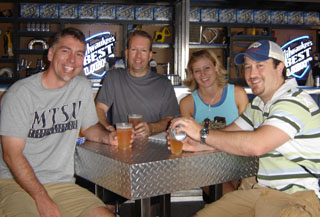 Next it was lunch time and we made our way to Margarittaville where Dustin met a new friend and played the ring toss game, never taking is his mind, or mouth, off of what was really important.( Tim - ask Dustin about the REAL story behind this picture)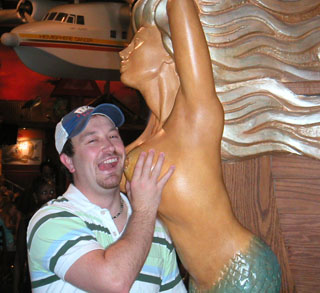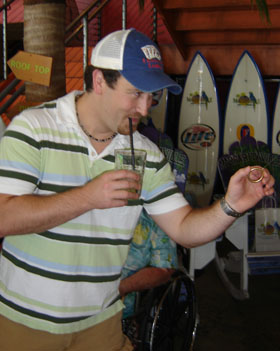 We found Brian and Troy at the pool at the Flamingo but we decided to play some games instead of getting roasted. Dustin was the only one to finish up on the day. After enoying way too much food at the Paris we headed home to get some rest.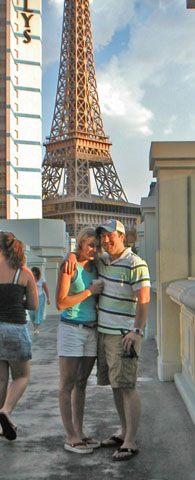 ---

Night #1
(Wade) We began the evening at the Rio where we all picked up our registration and table assignments for our respective event. We wandered the main room and came across a couple of tables with many pros (Annie Duke, Todd Brunson, Daniel Negraneanu, Gavin Smith, Allen Cunningham, Evelyn Ng (man is she tall), Jennifer Harmon (she is not tall)), most playing in the $3,000 Omaha High-Low 8/OB. We are all very excited to play.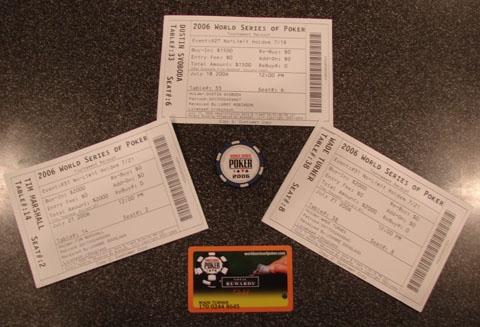 Next we decided to wander downtown and after finally finding a parking place for the land boat wandered to Freemont Street where we were able to catch the light show and enjoy a cool, refreshing adult beverage.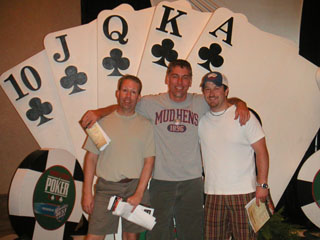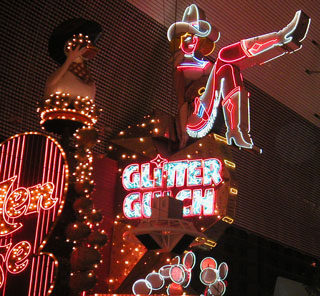 Itching to get some of our money in the game we ended up at the Four Queens casino and between a combination of video poker, blackjack, and craps we all walked away with some of house's money.

At midnight the thermometer still read 114 degrees to which Tim mentioned that we were definitely in Hell. When the temp dropped to 105 he said it was just purgatory. For those coming out to join us, IT IS HOT!!!

(Tim) The Rio is definitely a hub of activity - we are going to have lots of useless swag to give away as prizes at MNP. The only thing I really have to add right now is that we did find out the Dustin's event won't be televised but the event Wade and I are playing in will be televised on Tuesday, Oct 31st on ESPN. Now, if we can just make it far enough...

---

Day #1
(Wade) We made it to Vegas and on Day 1 we already up. Shannon made $50.00 in the airport waiting for the boy's plane to arrive playing Wheel of Fortune.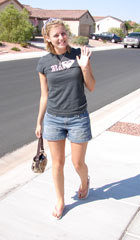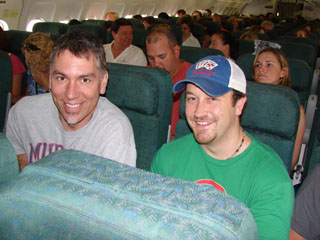 Next was a stop to pick up the rental car. We were pleasantly greeted right off of the shuttle by an employee with bottled water, which was welcomed in the 114 degree weather. After 15 minutes in the heat we were told they did not have a full-size as we had ordered so they were upgrading us to an SUV but they had to clean it. Apparently the last users of the vehicle used it well because it took them another 15-20 minutes to get it clean for us. We finally got in and were ready to hit the road but we found a problem with one of the doors that wouldn't open due to damage by previous users. So while the wait was painful, now we are driving around in a New Chevy Suburban for about a quarter of it's normal cost.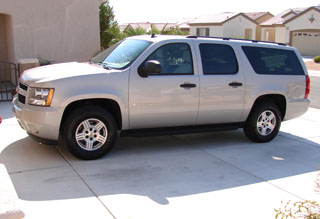 Tonight, we hit the town...